Part 2: The Wedding
My brother and I are about five, almost six years apart. Because of the age difference, it feels like we grew up together but at the same time, separately. Most of my memories of us are during family vacations or laughing at our parents. I'll never forget the Yellowstone road trip, dad's late night taco bell runs, mom's devotion to Michael Bolton, our combined love and advocacy for our childhood pet Mandy, and making Shawn play catch with me in the backyard everyday so I could impress the neighbor boy.
We are connected by our roots, and even though we grew up going down different paths, I will forever love my brother and feel like he gets me and I get him in certain ways.
Yet when it came to finding a significant other, I didn't know what to expect from Shawn. The only girlfriend I ever heard of was one he dated in middle and high school. From what people said, she wasn't anyone I would choose for, well...anyone.
Because of that, I had pretty low expectations for my future sister-in-law.
Then my parents told me that Shawn actually brought a girl home to meet them. This was years after that first girlfriend we knew, and all of us were shocked that he was taking this step with someone.
Even more shocking, everyone seemed to like her, A LOT.
I was living in a different state so I would randomly hear about the mysterious "Mandy" when I'd call home. The great reviews kept coming in and part of me found it hard to believe that a girl this, supposedly "perfect", would fall for my brother (sorry Shawn...just being real).
I was curious. Even though I say I "get" my brother in ways, he's also a big mystery to me. We are different people and we've never been ones to sit and have a heart to heart together. I felt like meeting this girl would be like discovering a part of my brother I didn't know existed.
I'm not sure what the occasion was but eventually she came to visit while I was in Minnesota. Within minutes I knew what everyone was talking about. She was up for anything. She played cards, a game of HORSE with the guys, and polish golf all while smack talking. (We are a competitive family). She laughed easily and seemed like one of those people that could get along with anyone. She was super close to her family, especially her grandma who sounded like a blast. Plus, her name was Mandy, our beloved childhood pet dog's name, which just seemed to fit (obviously not the dog part).
It was that day when I felt like I knew my brother more than ever before. And the more I got to know Mandy, the more I saw that she was a reflection of all the good things in Shawn. His love for family and bringing people together. His loyalty, playfulness, confidence, and relaxed nature.
I knew it then and believe it more every time we hang out.
Mandy is awesome.
But the very best thing about her, in my eyes, is that she helped me know my brother more.
And he's pretty awesome too.
This post is full of pictures by the fabulous Tim Larsen Photography. Below are some of the morning of the wedding. In the first one, my Grandma Bonnie is putting a special heirloom on Mandy. It's her mother's ring and all the sisters (my grandma has three) pass it around to the brides in the family to wear on their wedding day.
Here I am putting the boutonnieres (spell check!) on my brother and some of the other guys. Even though I'm a wedding photographer, I have never put these on myself. Tim Larsen, the photographer, made me step up my game and get the job done. I was kind of proud of myself by the time they were all pinned.
Here's Shawn and Mandy's first look. (Tears)
Finally the ceremony.
My hot hubby walked down with all of our boys in tow.
I love this man.
The kids were surprisingly good throughout but when Shawn and Mandy were giving hugs as people left their seats, Levi yelled out "I DON'T WANT A HUG!" And everybody laughed.
That is so Levi.
Some of the bridal party shots are below. Tim (the photographer) had a great game for getting natural smiles out of us bridesmaids (which I may or may not steal).
My parents, Jack and Cindy, with the bride and groom. And then our family added to the shot. (Notice Evy's face. She was over the whole smiling thing at that point.)
My Grandpa Gordon and Grandma Gladys with the B & G.
My Grandpa Jerry and Grandma Bonnie with the B & G.
Here are a couple shots I took. Aunt Lynda saw the opportunity to get a picture of my Grandparents (Slovick) with all their great grandkids so we seized the moment. From left to right - Haven, Avalynn, Jaxon, Carter, Beckett, Evy, and Levi.
Our new extended family - the Sauters! From left to right - Amy, Caleb, Mark, Donna, Mandy, and Shawn.
Here's a table honoring the family members who have passed. There's my aunt Cheryl on the far right. Every time I hang out with Mandy I think about how much Cheryl would have absolutely loved her. Sometimes I see my spunky aunt's spirit in Mandy and I smile. I think Cheryl's smiling too.
Since my brother is a man of few words, Mandy gave a speech thanking the crowd. I love how well they compliment each other and how he appreciates her confidence.
These pictures are of the shoe game they played. I had never seen this before but I feel like it should be done at EVERY SINGLE WEDDING. It was hilarious and gave such insight into their relationship. The DJ would say something like "who's a better driver?" and they would have to hold up either their own shoe or their new spouse's or both. I'm pretty sure the first picture below was after the DJ said "who wears the pants in your relationship?"
Mother and son dance. So sweet.
Evy twirling away and my parents having some tender moments. Probably relieved beyond belief that Shawn landed a girl like Mandy, and finally sealed the deal.
And these pictures are what two people with four kids and a low tolerance for alcohol do when someone is babysitting those four kids (thank you Rachie!) and they've had a few - we challenge each other to a selfie game. Yes, we are dorks.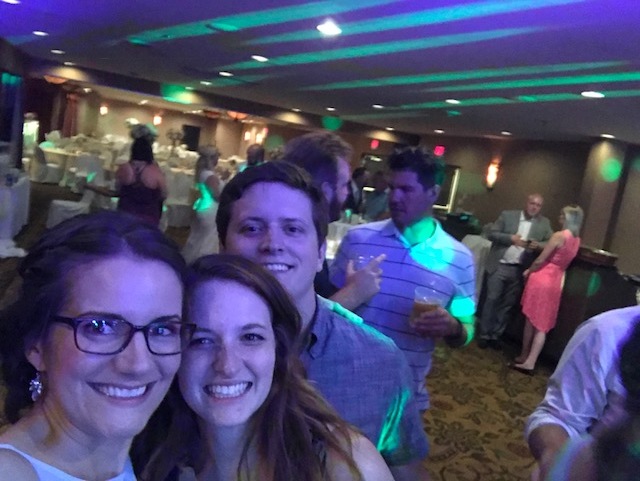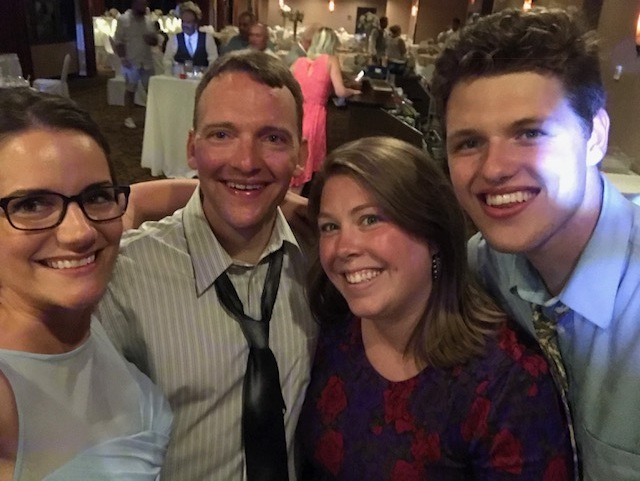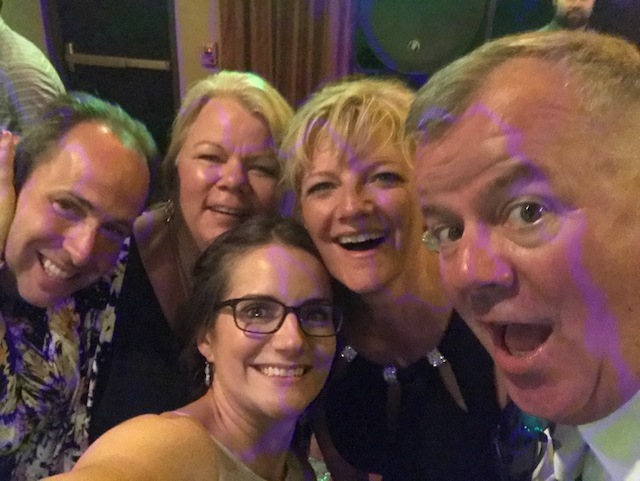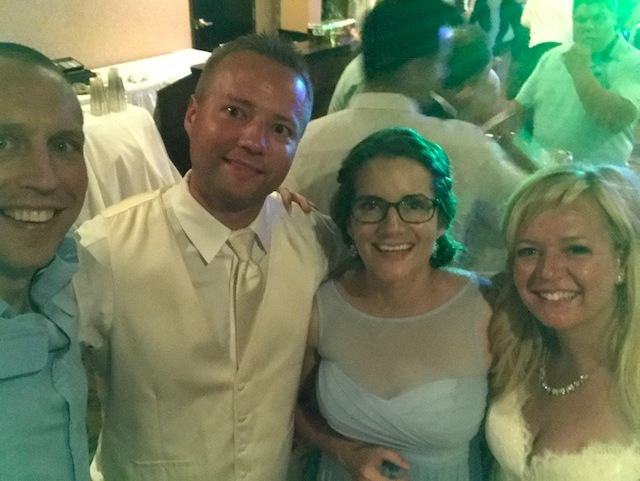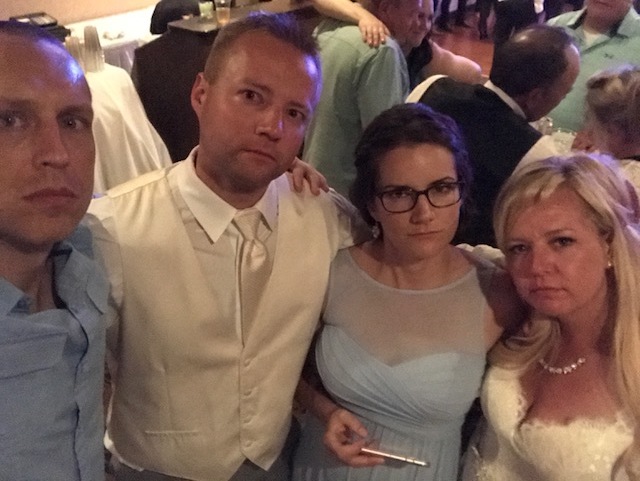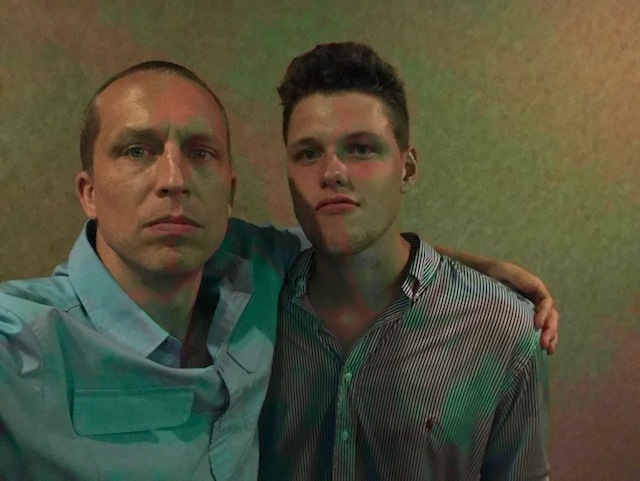 And my favorite picture from the whole trip - me and my man. Seeing my brother get married reminded me of how blessed I am to have found Mark. Marriage is such a special gift. It's hard at times but there is nothing better than having a teammate for life. He's the best.
In addition to Tim Larsen's photography, Shawn and Mandy hired an amazing videography team. B & M Productions put together this perfect highlight reel of the day. We've probably watched it a hundred times already. I could blame the kids but it's really me who keeps replaying it.
Before I go, I wanted to share this piece of advice that we got from Pastor Russ during our ceremony almost 10 years ago. Since we know you like competition (like us), make marriage the ultimate game.
Compete in serving each other and you'll always be a winner.
We love you Shawn and Mandy! May you enjoy many years together and always remember this special start to your marriage.